What is Long Term Athlete Development (LTAD)?
Canadian Sport for Life (CS4L) is a movement to improve the quality of sport and physical activity in Canada. CS4L links sport, education, recreation and health and aligns community, provincial and national programming. Long Term Athlete Development (LTAD) is a seven-stage training, competition and recovery pathway guiding an individual's experience in sport and physical activity from infancy through all phases of adulthood. CS4L, with LTAD, represents a paradigm shift in the way Canadians lead and deliver sport and physical activity in Canada.
LTAD is a training, competition, and recovery framework for individuals at all stages of life.
LTAD offers equal opportunity for participation and recreation.
LTAD is athlete centered, coach driven and supported by officials, administrators, parents, sport medicine, sport sciences and sponsors.
LTAD focuses on the general framework of athlete development with special reference to growth, maturation, and development.
LTAD is a framework for full sport system alignment in Canada, integrating health and education with sport and physical activity.
For more information on LTAD click here
Ringette Long Term Athlete Development Framework
Framew
ork Document
The focus of this document is Long Term Athlete Development, or LTAD, for participants in Ringette. By respecting the principles of LTAD, we will ensure that our programs and structure meet the developmental needs of participants in each stage of LTAD. This document sets out a framework for LTAD in Ringette. When fully implemented, the LTAD framework will provide the optimal environment for athlete development, the pursuit of excellence, and instill a love of the game that keeps athletes in ringette for life.
Ringette Canada LTAD Framework Document
Ringette Long Term Athlete Development Pathway
Athlete Development Matrix
An Athlete Development Matrix (ADM) is a matrix of key skills or building blocks that a player or athlete must develop through her participation in sport at the local and high-performance levels.
Essentials
This document provides a snapshot of the key building blocks for the developing player and high-performance athlete. Using Canada's Sport for Life Long-Term Athlete Development (LTAD) framework, their generic Athlete Development Matrix (ADM) and acquired expertise from Canada's Ringette community, these Essentials were compiled. To help coaches and administrators build and test the effectiveness of programs, a more detailed and comprehensive version of Ringette Canada's Athlete Development Matrix will soon be available.
The Athlete Development Matrix is split into 4 components: Psychological, Life Skills, Technical/Tactical/Strategic and Physical. Further to that, Ringette Canada has added a fifth component, which is the Ethical Literacy, an initiative from the True Sport Foundation.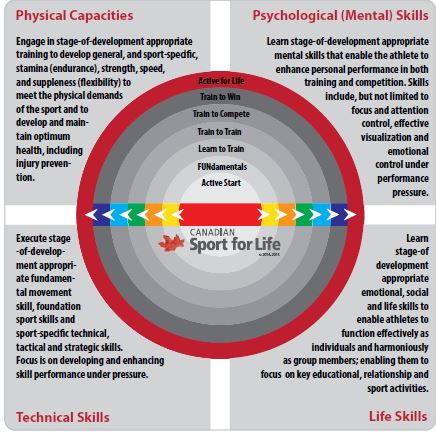 The Athlete Development Matrix Essentials document can be viewed and downloaded here.
To access the Essential skills by stage, click on the desired link below.
Train to Train – I am on the Team
Train to Compete – I am a Competitor
Learn and Train to Win – I am Exceeding my Limits/I am a Champion
Active for Life – I am Ringette
Children's Ringette
Ringette Canada and Ringette Ontario are committed to creating and encouraging safe, fun and healthy environments for players in our children's programming up to and including U10 and U12 programs.
Changes, including introducing small-area games (cross-ice and half-ice ringette) as the standard of play, will be introduced as follows:
U8 players in 2019/20
U9 players in 2020/21
U10 players in 2021/22
Small Area Games
Small-area games will be implemented though:
Size of the playing surface (not to exceed half the ice surface)
Number of players on the ice
Size of nets
Goaltending options (no goalie, rotating goalie, designated goalie)
Modified rules, including number of passes, shift lengths etc.
Provincial Implementation
Ringette Ontario will be working with its members to develop a plan to adopt small-area games. This season, Guelph Ringette's U7 program will be using small-area games and will be participating in the national initiative to gather feedback on different game formats in support of Ringette Ontario's planning efforts. Ringette Ontario will also be hosting events in February and March for other local organizations to experience small-area games.